Topical Groups & Committees:
Sub-Sections
New York Section
National ACS
Support Your Local Section
---
Interested in becoming a member of the ACS?
Click here.
---
American Chemical Society
New York Section, Inc.
Department of Chemistry
St. John's University
8000 Utopia Parkway
Jamaica, NY 11439
Phone 516-883-7510
Fax 516-883-4003

Office Administrator
Webmaster


New York Section 2020 Elections

The biographies of the candidates for office in the New York Section of the American Chemical Society are below and all ACS New York Section members are encouraged to vote by the May 31, 2020 deadline.

Paper ballots and Electronic ballots are being used for this election.

Electronic ballots will be distributed by May 1st using SurveyMonkey.
If you previously opted-out of receiving SurveyMonkey emails, the following site will enable you to 'opt-in' for the election. Feel free to opt-out again after voting if you wish if needed. Go to: https://www.surveymonkey.com/user/email-opt-in/ Members also may request a paper ballot using this website

If you have NOT received a ballot (Email or paper) contact the New York Section Office
at (516) 883-7510 or by Email immediately.

Candidate Bios

Coronavirus Update
The New York Local Section of the ACS is monitoring the developments related to the 2019 novel coronavirus (COVID-19). We are sorry to inform you that due to the outbreak of the Coronavirus in the New York area, the following events have been postponed
The William H. Nichols Distinguished Symposium and Award Dinner - postponed until October 23, 2020
The Undergraduate Research Symposium - postponed - no date set yet
Chemists Celebrate Earth Week - Walk Across the Brooklyn Bridge is cancelled.
The Westchester Chemical Society Distinguished Scientist Award Dinner / Student Achievement Awards - cancelled.
Results of the US National Chemistry Olympiad Exam will be sent to teachers by March 23, 2020.
Long Island Subsection April 2nd Seminar
Long Island April 24th Chem Challenge
We apologize for any inconvenience this causes, and wish you the best of health.
Calendar of Events
April 2020
17
New York Local Section
Board of Directors Meeting

23
Westchester Chemical Society
CANCELLED - Westchester Distinguished Scientist Award Dinner and Student Achievement Awards
Trisiloxane Alkoxylates as Adjuvants for Agriculture
presented by:
,
Flyer

24
Long Island Subsection
CANCELLED - Chemistry Challenge
Flyer

24
Hudson - Bergen Subsection
CANCELLED - The 22nd Annual Student Research Symposium
featuring a keynote lecture entitled:
Chemistry and Biology of Benzimidazoles: A priviledged heterocyclic scaffold for Medicinal Chemistry
presented by Prof. Sabesan Yoganathan, PhD
Department of Pharmaceutical Sciences
St. John's University

25
New York Local Section
CANCELLED - Chemists Celebrate Earth Week - Walk Across the Brooklyn Bridge
Protecting Our Planet Through Chemistry
Flyer

29
Metrowomen Chemists Committee
CANCELLED - Opening Up the Envelope: Reading Out Mysterious Membrane Machinery in the Human Pathogen Mycobacterium tuberculosis
Dr. Jessica C. Seeliger, Stony Brook University
Flyer

---
New York Local Section Presents
the Nichols Foundation High School Chemistry Teacher Award
to Mr. Paul Orbe of Union City High School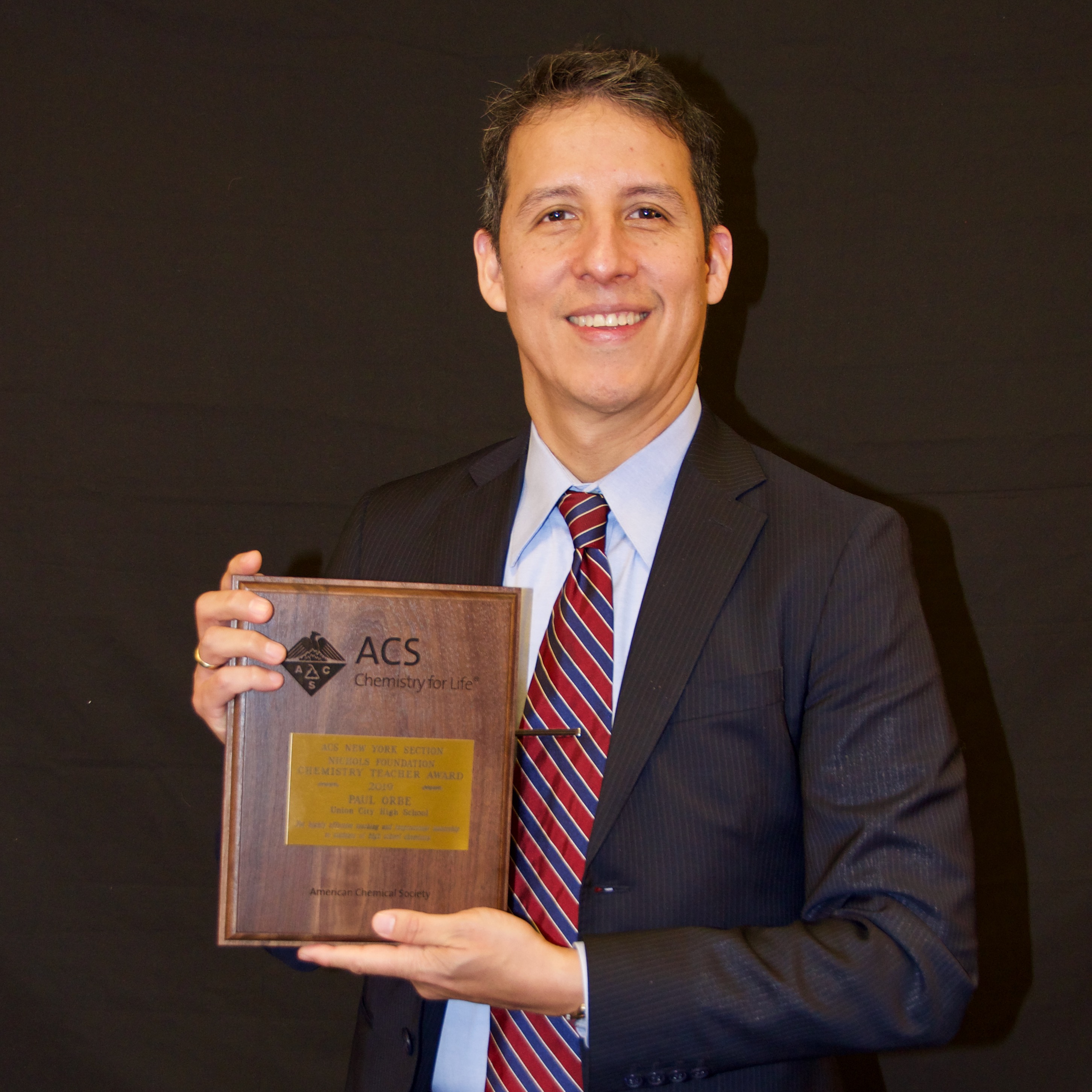 Mr. Paul Orbe

Congratulations to Mr. Paul Orbe of Union City High School for his dedicated work as an outstanding chemistry teacher from the ACS New York Section.

Message from 2020 Chair
Dr. Ruben M. Savizky

2020 Board Meeting Dates
---


http://TheIndicator.org

Archive of Back Issues

---


---
Reminder - Please Pay Your New York Local Section Voluntary Dues!
When your ACS membership renewal notice arrives this time, please be sure to renew but also don't forget to check the box for payment of New York Local Section Dues. While Local Section dues are a voluntary contribution - they are not required to maintain Section membership - they are however, critically important to the well being of the New York Section.
Your $15.00 Voluntary Dues directly fund events and services, including the prestigious annual Nichols Medal Symposium, undergraduate research symposia, topical groups, subgroups, and other excellent programs. With your financial commitment, these important programs can continue to grow and benefit all our members.
Thank you - the New York Section really appreciates your help!
---
Employers Seeking Talented Employees
The Employment and Professional Relations Committee maintains a roster of candidates who are ACS members seeking a position in the New York metropolitan area. If you have job openings and would like qualified candidates to contact you, please send a brief job description and educational/experience background required to Hessy Taft. Candidates from our roster who meet the requirements you describe will be asked to contact you.
---
SPEAKERS WANTED
Do you like to talk?
Then we need to hear from you!
The New York Section of the ACS is looking to increase and update its Speakers Bureau database of interested local area speakers who are available for Section-wide seminars and symposia. If you have an area of research or interest that would provide an interesting talk appropriate for our Section members, and would like to be included in our Speakers Bureau, then please contact the New York Section Office (516-883-7510, Email) with the following information that will be posted on the Section's website: your name, affiliation, a title, and 5-6 words briefly summarizing your area of specialty. We look forward to hearing from you about topics that you wish to share with our other members!